The latest and one of the most compact addition to our "Star Wars" club of Automatic Watch Winders fires up with a white LED spotlight aimed at your watch when rotating.

Designed with a most unusual profile it offers many features only available on some of our more luxurious models.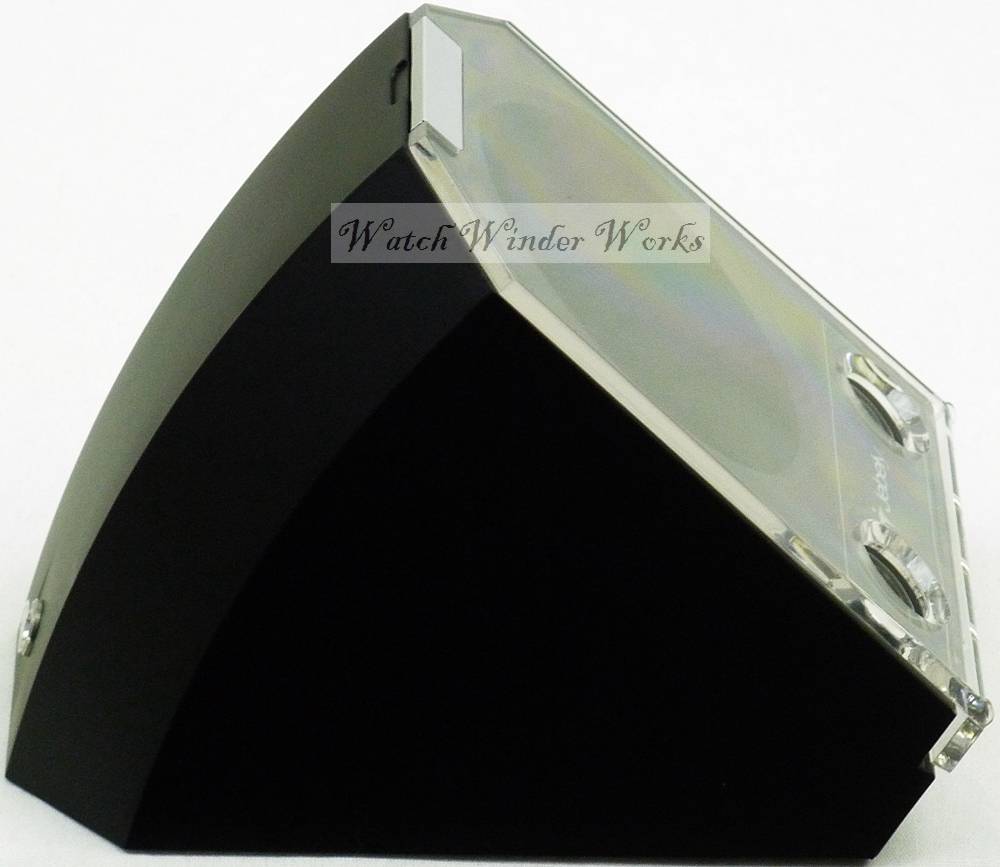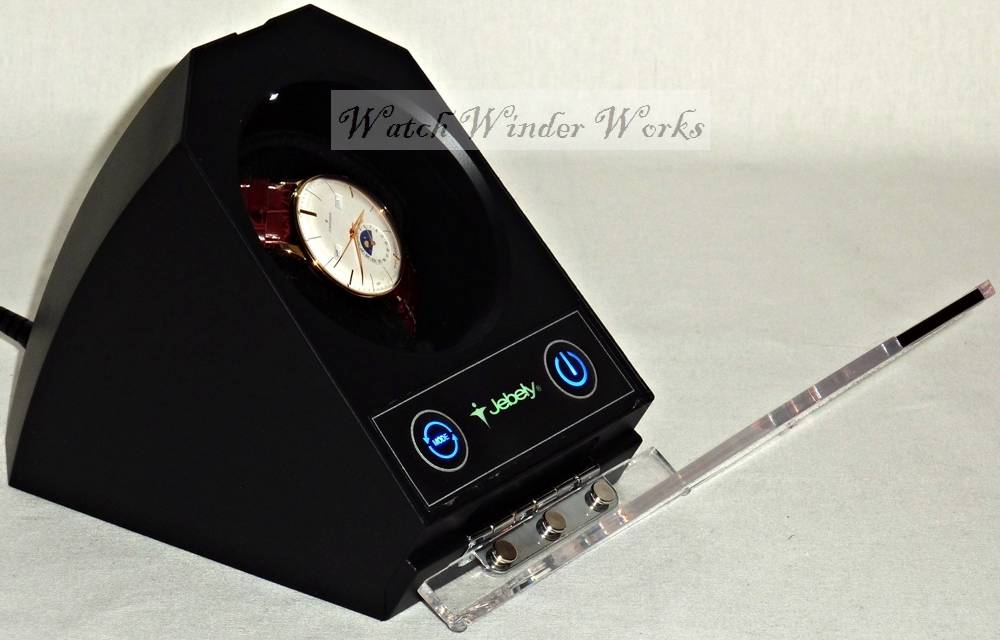 It has four pre-programmed rotation modes, one of which has a resting period of 9 hours which allows the winder to be placed on your bed side table as it can be set for the resting period to coincide with sleep..total silence!
"Star Wars" white LED spotlight fires up when rotating & illuminates your watch (switches off during resting periods)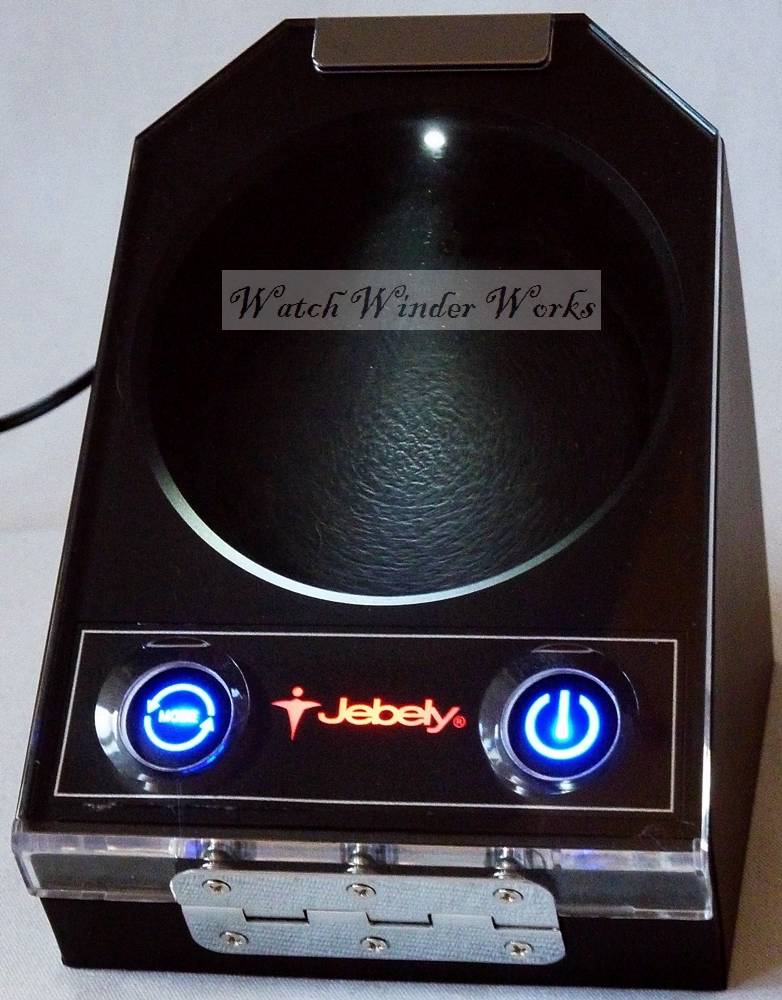 It is constructed of lightweight quality plastic with a clear acrylic chrome hinged cover. Its modern design and extremely small foot print allows it to be placed virtually anywhere. A High quality quiet Japanese Mabuchi Belt-drive motor turns the cup holding the cushion mount and will accommodate small as well as large diameter watch bracelets/straps .

Watches are securely mounted on the PU foam cushion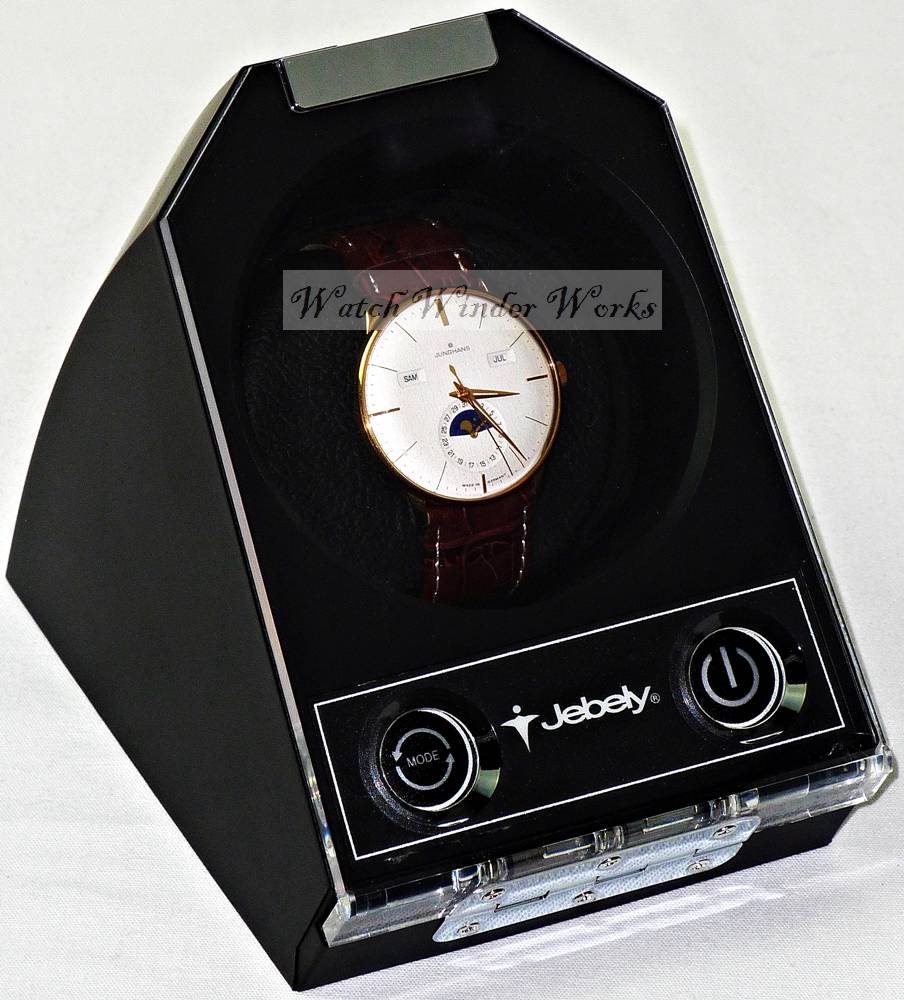 The program controls are easily accessible on the front of the winder.
Pressing the left touch button control repeatedly cycles through the four programs and illuminates "Jebely" in four different colours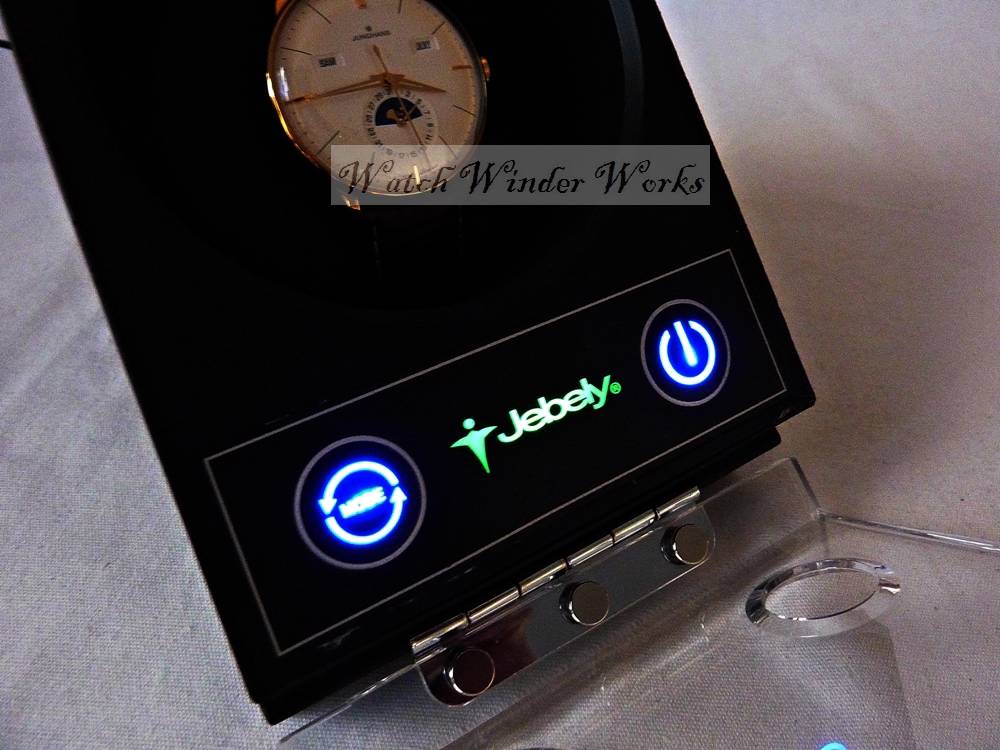 A transparent chrome hinged acrylic lid protects your precious watches from dust and allows them to be viewed.

Electronics control clockwise or anti-clockwise winder program selection (with resting periods) and comply with all manufacturers' minimum TPD (turns per day) specifications.
Precise user instructions; OZ compliant AC Adapter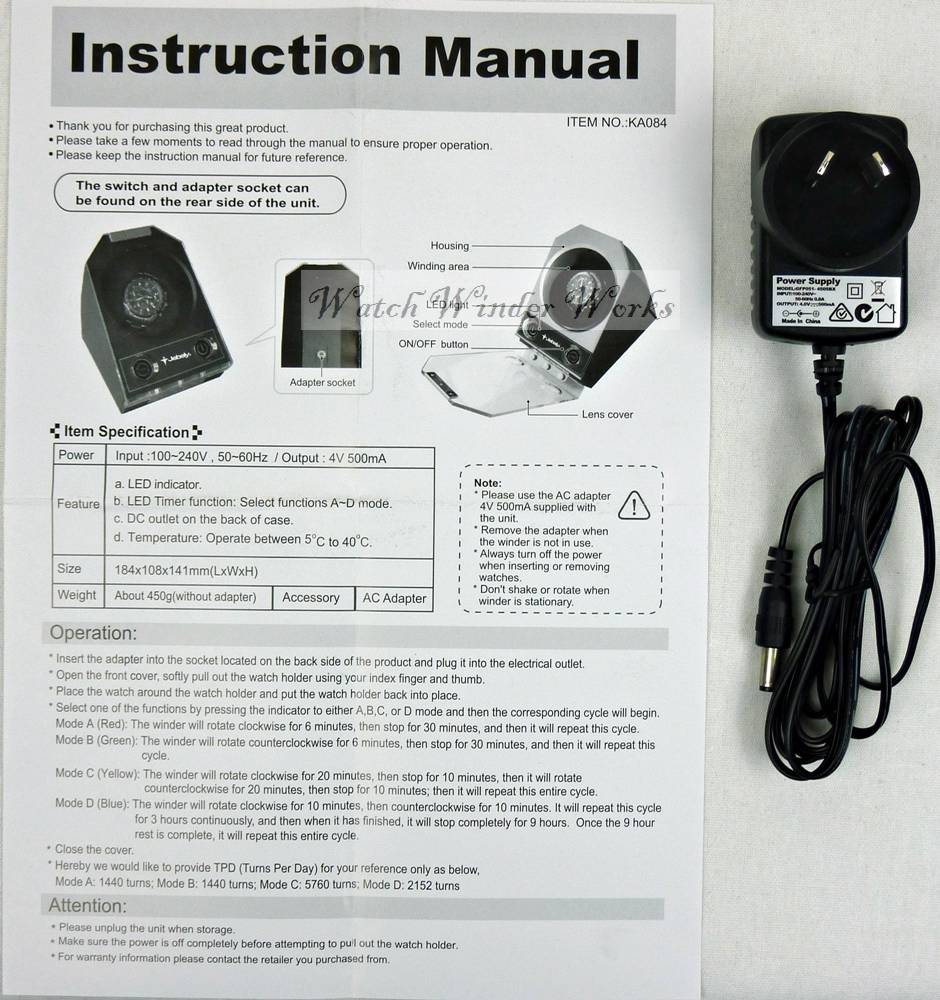 Specifications:
Design: Automatic Watch Winder for one watch

Construction: High quality durable plastic

Colour:

Satin Matt Black

Transparent Acrylic Chrome Hinged Lid
Interior:

High quality durable black plastic; White LED spotlight illumination when rotating

Program logic ensures correct minimum TPD (Turns per day)

Suitable for oversize watches

Felt lined base to protect your surface

Easy to use

Electronically controlled - 220/240V OZ compliant AC Adapter (included)





Rotation logic:

The circuitry logic is time-set programmed and has four rotation settings:
A (Red)- The cup will turn clockwise for 6 minutes and then rest for 30 minutes and repeat -1440TPD


B (Green)- The cup will turn counter-clockwise for 6 minutes and then rest for 30 minutes and repeat - 1440TPD
C (Yellow)- The cup will turn clockwise for 20 minutes and then rest for 10 minutes; then turn counter-clockwise for 20 minutes and rest for 10 minutes and repeat-5760TPD
D (Blue)- The cup will turn clockwise for 10 minutes then turn anti-clockwise for 10 minutes repeating this alternate rotation for 3 hours and then rest for 9 hrs and repeat the cycle again- 2152-This setting is ideal for placing the winder on your bed side table as it will switch off for 9 hours during sleep....total silence!


These settings ensure that the main spring is tensioned and then unwinds during resting periods similar to a watch being worn on the wrist and comply with all automatic watch manufacturers' minimum TPD (turns per day) specifications e.g. Rolex, Omega, Breitling, Tag Heuer etc

Precise user instructions

12 months warranty on workmanship & motors/electronics

30 days no questions asked money back guarantee (buyer pays return postage) if the product does not fully meet with your expectations.

shipped by registered, insured courier in transit-proof packaging
Weight: approx: 0.5Kg




Dimensions: W108xD184xH141mm


Watches not included
The video below does not show extended resting periods
rotations are smooth and gentle
(red illuminated "Jebely" indicates the winder is set to 1440TPD)


Suitable for Luxury High End Timepieces